Remembering some of the best fights in San Antonio
On July 17, the city of San Antonio will host WBC super welterweight champion , Jermell Charlo versus champion Brian Castaño at the AT&T Center.
A fight which promises to be a thriller and highly significant, because for the first time the super welterweight undisputed status will be at stake. All four belts!
Both the American and the Argentinian have made strong statements, involving mutual respect, but also singular determination. Inevitably after the dust settles, only one will have won.
Jermell reaches fight night, with a record of 34 victories, 18 of them by KO and a solitary defeat. He`s determined to administer the dosage potency he gave to then-champion Jeison Rosario who he defeated by knockout in the eighth round on September 26.
Determined to blot plus cross out that script scenario, Brian arrives with an undefeated record of 17 fights victories, 12 of them via KO and a single draw. A man who prefers clatter to chatter, he prefers let his fists speak for him, as they did when he snatched the title from Brazilian Patrick Teixeira last February.
San Antonio, Texas is again poised to present a great boxing spectacular, with its mix and blend of old and new. Where different cultures and traditions merge and meld.
Let`s amble down memory lane, to sample some of the classic boxing bonanzas:
13-09-1980 / Salvador Sanchez vs. Patrick Ford / DEC 15
07-01-1995 / Alejandro Gonzalez vs. Kevin Kelley / TKO 11
17-06-1979 / Danny López vs. Mike Ayala / KO 15
10-09-1993 / Terry Norris vs. Joe Gatti / KO 1
14-12-2013 / Leo Santa Cruz vs. Cesar Seda / UD 12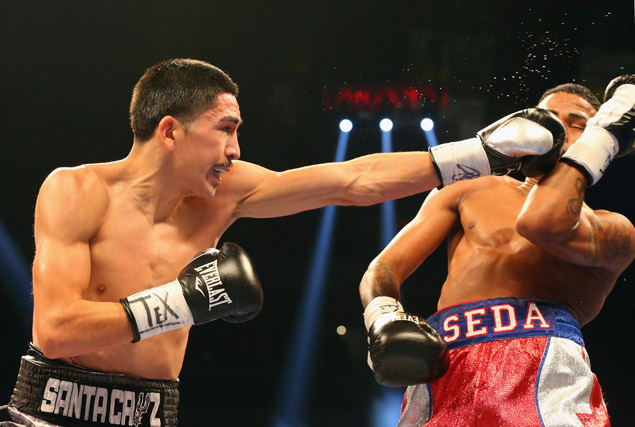 10-09-1993 / Azumah Nelson vs. James Leija / DRAW 12
19-12- 2020 / Saul Alvarez vs. Callum Smith / UD 12
20-04-2013 / Andrés Gutiérrez vs.  Salvador Sanchez / TKO 5
20-04-2013 / Saul Alvarez vs. Austin Trout (Voluntary) / UD 12
10-09-1993 / Pernell Whitaker vs. Julio Cesar Chávez / DRAW 12
14-06-1997 / Genaro Hernandez vs. Anatoly Alexandrov / DEC 12
04-02-2012 / Julio Cesar Chávez Jr. vs. Marco Antonio Rubio / UD 12
14-06-1997 / Oscar De La Hoya vs. David Kamau / KO 2
26-06-2010 / Julio Cesar Chávez Jr.  vs. John Duddy / UD 12
14-04-2007 / Edgar Sosa vs. Brian Viloria / DEC 12
23-09-2017 / Nonito Donaire vs. Rubén Garcia Hernandez / UD 10
14-04-2007 / Cristian Mijares vs. Jorge Arce / DEC 12
27-07-2013 / Omar Figueroa vs. Nihito Arakawa / UD 12
04-02-2012 / Vanes Martirosyan vs. Troy Lowry / TKO 3
26-01-2015 / Robinson Castellanos vs. Rocky Juárez / UD 12
20-04-2013/ Omar Figueroa vs. Abner Cotto / KO 1
Don't  miss Jermell Charlo vs. Brian Castaño. An event to remember,  presented by Premier Boxing Champions and which will be broadcast on Showtime.