Nothing stops boxing…Our sport stands!
A few months ago, life as we knew it radically changed, as the closeness, the coexistence, the hugs, the kisses suddenly became a potential mortal danger, the only safe thing was to stay at home … the COVID-19 pandemic hit the whole world.
From one moment to another, all the activities were canceled, boxing and sports in general were stopped, suffering an unexpected and grievous blow. However, characteristically the great boxing family showed that together we are STRONGER and that with our united togetherness, nothing is IMPOSSIBLE.
We show that we can always innovate and reinvent ourselves and thus, from all latitudes and with all responsibility, we show the world that: BOXING IS STANDING! And so, after several months, our sport returned, the first time on ESPN on June 9, under the leadership of Top Rank, putting together quality cards behind closed doors on Tuesdays and Thursdays. The cards took place  at the "Bubble" established in the convention center of the MGM Grand hotel in Las Vegas, Nevada, and which was created to protect the health and safety of boxers as well as staff.
Zanfer joined this initiative to reactivate boxing, presenting the series "We return with Punch" of TV Azteca Mexico. There were eight tremendous boxing cards from June 27, up to Friday 23 October- a card where three world titles were at stake, and where we witnessed one of the best fights of the year, involving WBC super flyweight champion Juan Francisco Estrada against Mexican also Carlos Cuadras. In addition to the tremendous performance of flyweight champion, Rey Martínez who won by technical knockout in the second round.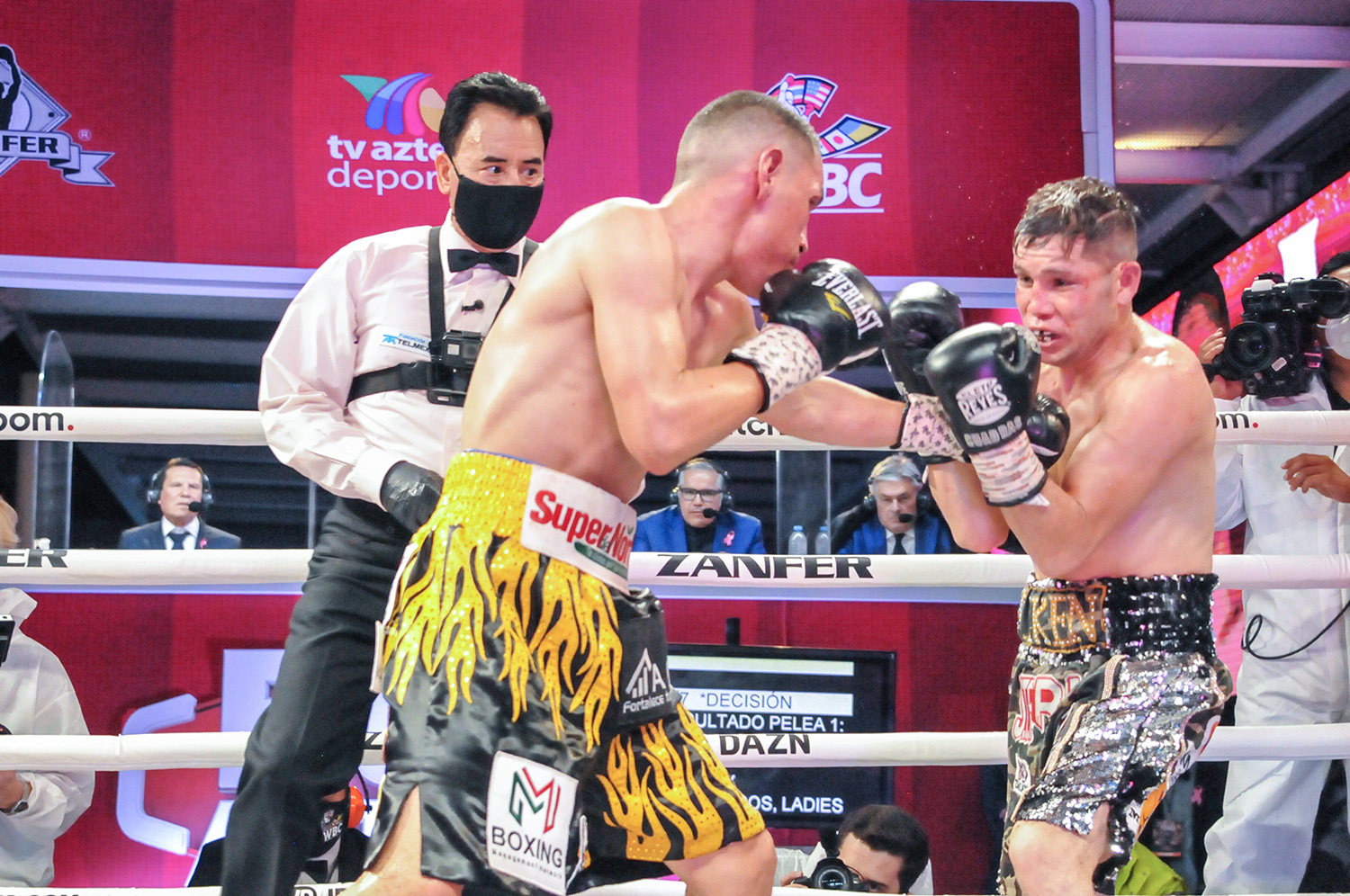 PBC has held sensational functions based in various venues, the Mohegan Sun in Connecticut, the Alamodome in San Antonio and at the Staples Center in Los Angeles, California where magnificent high-level fights have been presented with FOX and Showtime as a screen for these great events.
From Michoacán, Carlos "King" Molina, boxing also returned to the Mexican Republic where in addition to being the promoter himself, he also stepped into the ring to score a resounding victory at the beginning of the sixth round against Michie Muñoz,in a great fight held behind closed doors.
Every single one of these cards have been under the strictest standards of the security protocol designed by the World Boxing Council, where the most important aspect is to safeguard the health and integrity of boxers and other personnel working in the card.
On July 24, the WBC experienced its first title fight with the silver light fly champion Seniesa Estrada who showed her impressive power by knocking out Miranda Adkins in just 7 seconds, on a card presented by Golden Boy Promotions in Fantasy Springs Casino in Indio, California, broadcast on DAZN.
A few days later, Suleimen Promotions presented a card from Minsk, Belarus, where the Kazakh Aidos Yerbossynuly, the WBC International champion, faced Nigerian Nuhu Lawal, that night the Kazakh prospects Nursultan Zhangabayev and Amanzholov also saw action. Young prospects Yeveniy Pavlov and Bek Nur Nurmaganbet, two promising fighters who triumphed in the amateur arena, made their debut.
Germany was also one of the countries that raised their hands and returned boxing to the arenas, being one of the first countries on presenting cards with Hussein Muhamed, who celebrated his return after a long wait, defeating German Frank Bluemle by technical knockout.
For July, Showtime Sports and Premier Boxing Champions announced a lineup of nine live boxing events featuring 18 undefeated fighters, nine world champions, and eight world championship fights, cards that began on August 15 and will run through December 12. , Within these great cards we already saw Luis Nery being crowned as WBC super-bantamweight champion defeating Aaron Alameda by unanimous decision, in addition to the successful defenses of the Charlo twins who gave great demonstrations of power.
Japan also reopened the iconic portals of the world famous Korakuen Hall to great fights, one of them for the OPBF regional featherweight championship between two warriors. Likewise, the province of Okinawa, for the first time in many months, with a limited audience.
United Kingdom, also experienced boxing in a great women's fight that resulted in a well-deserved draw, between the WBC super featherweight champion, Terri Harper, and her compatriot, the former Olympic champion, Natasha Jonas. In addition, in that same country we enjoyed the performances at the bubble in the garden of the Hearn family, where we witnessed the incredible thunderbolt knockout from Alexander Povetkin against Dillian Whyte, seizing the interim world championship, and that same night, champion Katie Taylor won a convincing  victory against Delfine Persoon.
Later, Russia joined the path, with a cruiserweight eliminator bout between Ruslan Fayfer and Aleksei Papin; as well as, Spain with the return of beloved former champion Sergio Martínez, who scored a TKO in the seventh round over Spanish José Miguel Fandiño.
In the same month of August, boxing fans enjoyed one of the most important women's fights, when  Cecilia Braekhus tried to defend all her world titles against another WBC champion, American Jessica McCaskill, who surprised the world by defeating experienced Braekhus by a majority decision.
Nicaragua, hosted an international silver title fight in the WBC bantamweight division between Alexander Espinoza and Aron Juárez, a card where there were 6 more fights that put boxing on high. It was promoted by Bufalo Boxing, from former champion Rosendo Álvarez.
Serbia also turned on the arena lights with Marko Nikolic, Mediterranean light heavyweight champion who faced Frenchman Patrick Bois Jr.
In September, for the first time, Azerbaijan organized the "Professional Boxing Night" with the permission and under the control of the Azerbaijan Professional Boxing Federation, via the promotion company Baku Fight Lab. This magnificent event was attended by 16 professional boxers from the country. In addition to boxers with extensive experience in the amateur field who made their debut as professionals.
The activity continued, now from the ancient Chinese city of Chuxiong where the first fight of the year was presented with Chunhua Yang and Longyi Hu clashing with each other for the WBC China Bantamweight Championship.
On October 2, Malta held the third public boxing event since the summer, following strict security protocols.
Just one day later, on October 3, the "Bubble" established in the convention center of the MGM Grand hotel in Las Vegas, Nevada, shone again with a fight organized by Top Rank, being considered also candidate to Fight of the Year, with  "Chon" Zepeda defeating Ivan Baranchyk in the fifth round to get a title opportunity. An explosive and absolutely extraordinary  fight where both fighters visited the canvass eight times, but it was Zepeda's left hand that was the heavily decisive leveler.
In Dubai, United Arab Emirates, Britain's Maxi Hughes defeated Viktor Kotochigov of Kazakhstan by unanimous decision in ten rounds for the WBC international lightweight title. On that same card, Armenian super lightweight Hovhannes Bachkov made his professional boxing debut with success by defeating Venezuelan Samuel González by decision in eight rounds.
The return of boxing, fortunately also came to Italy from the hand of boxer Matteo Signani who successfully defended his EBU middleweight title by knocking out Maxime Beaussire in the second round. Gradually our sport also returned to South Africa with two great performances.
These spectaculars herald an incredible return of boxing to the arenas of the whole world, including the great card that Cancún Boxing and Promociones del Pueblo presented on October 31 from the paradisiacal beaches of Cancún. An historical event,  because it not only returned boxing to that tourist destination but also in a most welcome way, to the Televisa screens.
That night Yesenia Gómez successfully defended her WBC light fly crown against Mirna Sanchez and also  Yulihan Luna became the new WBC bantamweight champion defeating  the experienced and admired pioneer of women's boxing Mariana Juárez by unanimous decision.
And so, from one country to another, from one continent to another, boxing begins to rise up again, showing that working together we are an unstoppable force.
At the World Boxing Council we want to extend a huge round of applause and congratulations and special thanks to all promoters, boxers , who despite tremendous and daunting adversity have striven to reinvent themselves , by returning our beloved sport  to the arenas, to television screens, to the fans, adapting to the new reality that we live now, always pondering the safety of all those who take part in a card.
LONG LIVE BOXING!